Day two of Dublin found us trekking over to the Dublin Zoo. It was a long walk, but after another delicious breakfast at our favorite joint, Oscar's, we were ready.
But a side note on Oscar's...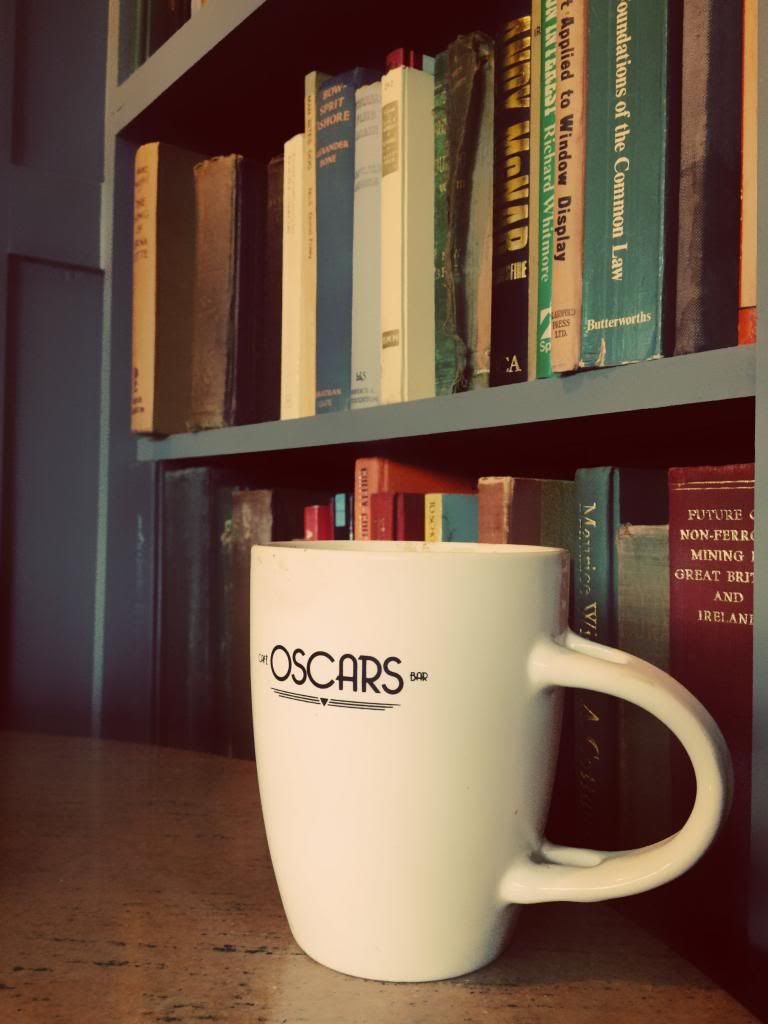 Oscar's was a little restaurant next to our hostel. We went there every morning for breakfast-- not only were their scones/muffins to die for, the atmosphere was amazing. They had an eclectic mix of huge armchairs surrounding little tables.
After another delicious breakfast we walked to the zoo.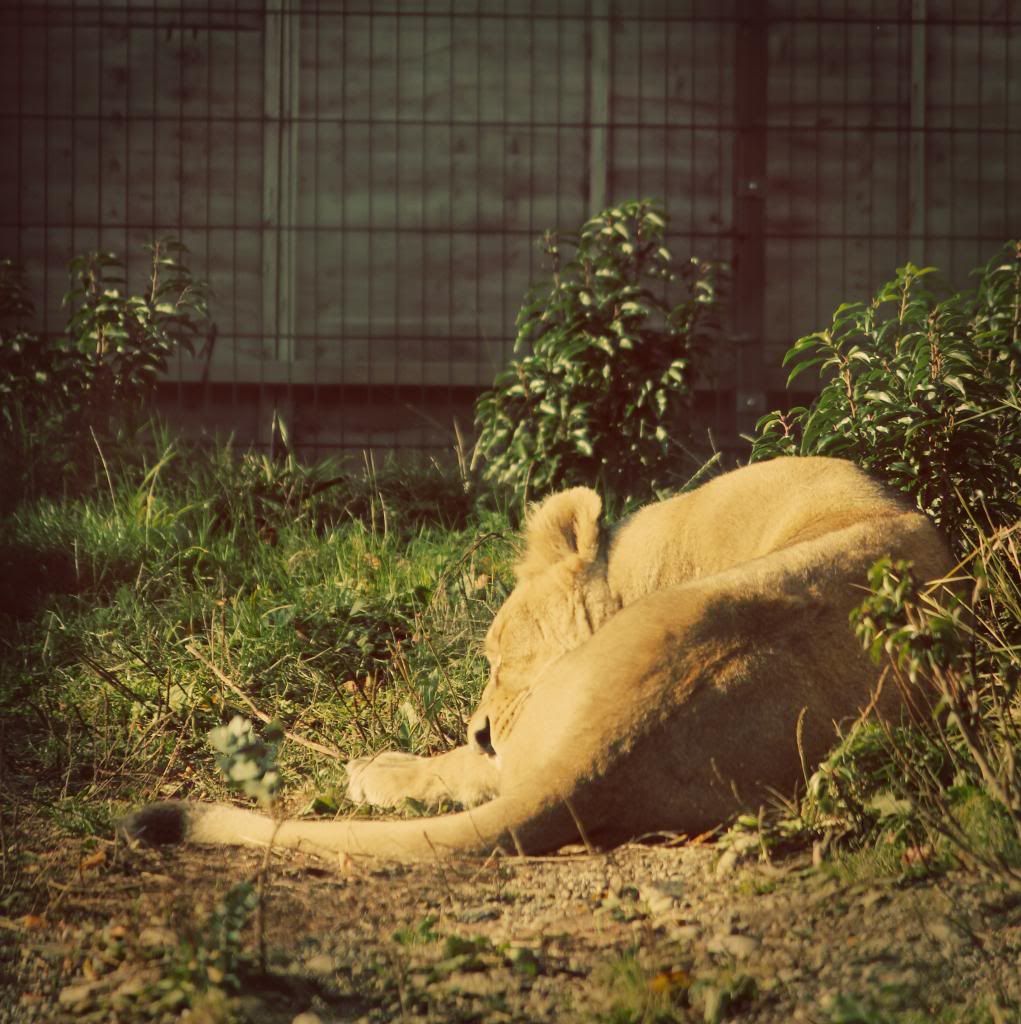 It was a slightly chilly, sunny day-- the zoo was sparsely populated with young families.
The zoo was a lovely medium sized zoo-- I really liked their Africa section; the giraffes were adorable. It was really cool to watch them dash across their enclosure. I can't imagine what it would have been like to be an European explorer seeing the African planes for the first time. The giraffes have such an awkwardly large body but they run with surprising grace.
The light was just gorgeous in the wolf enclosure-- this photo is completely unedited, which is a rarity for me.
After the zoo, we stopped in a little pub for a quick lunch and plotted our afternoon. We wanted to see an old castle that was supposedly easy to reach. Our guide book didn't offer anything more than 'take bus 42 from city center'. I would just like to make a little side note to explain that the city center of Dublin is about the size of a good size town in Arkansas. I would also like to a take a second to rant about the impossible Dublin public transportation system. Even after asking for directions twice, it still took maybe an hour and half to find the bus stop for bus 42. Not that this 'stop' was labeled. Or had a map. Or any useful information. It was just a little yellow pole.
We got on the bus, telling the driver exactly what stop we were going to get off at-- in Dublin how far you are going dictates how much you pay-- and then settled down for a surprisingly stressful 30 min. There was no map on the bus to tell us how many stops were before our stop. None of the stops we stopped at were labeled. I also had very little coins on me-- and you have to pay exact fare-- so if we got lost it would be expensive to try and get back to the city. Eventually the houses gave way to trees and I feared our stop had been one of the many little yellow poles we had already paused at. I inched my way to the front and asked the driver when our stop was, he kindly said it was the next one.
If he hadn't told us specifically, we would have never gotten off at the right stop. It was just a little yellow pole of the side of the road-- from the stop you couldn't see anything that suggested that a castle might be near.
Regardless, we miraculously got off at the right stop, and meandered through the forested trails that led to the castle.
It was cold and it had just started to rain when we turned a corner and saw the castle.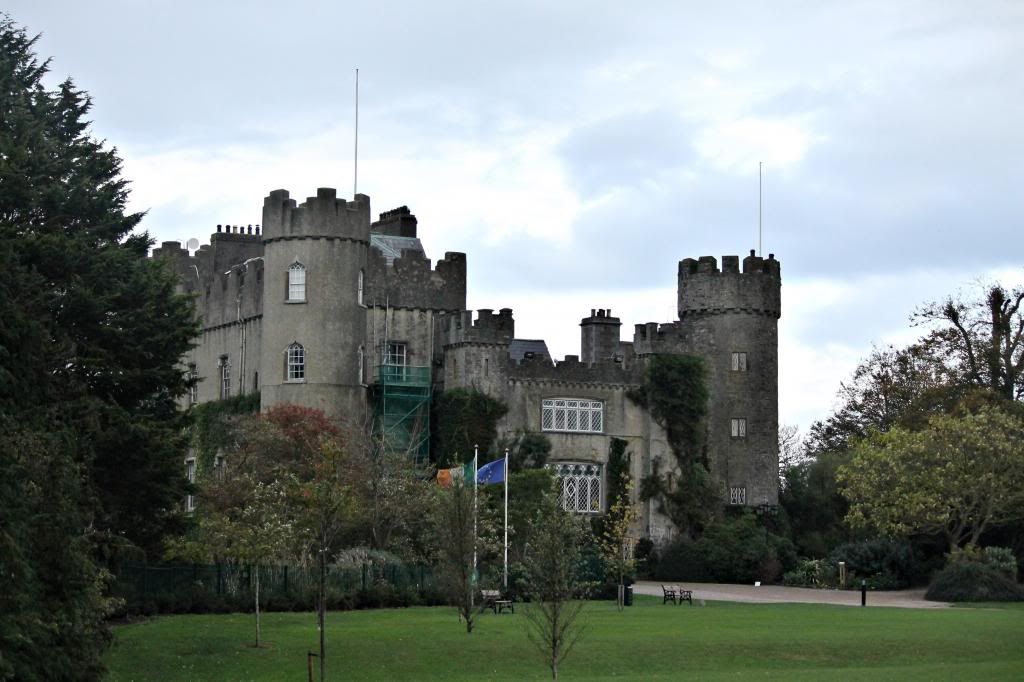 It was a cute little castle overlooking an impressive lawn. We quickly made our way to the ticket office, glad to get out off the cold rain. However, when we tried to buy tickets to see the castle we were informed that since it was Halloween the castle was closed, running only children's scary tours, which were completely booked. However, the gardens were still open. So, after a coffee break as we let the rain peter out, we walked through the gardens.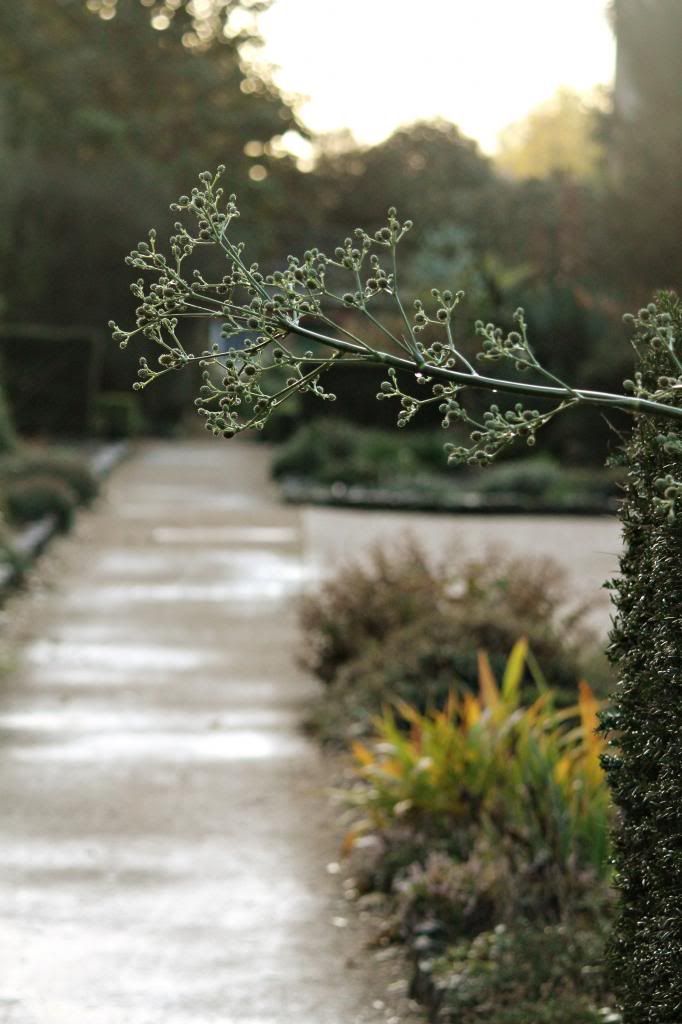 There wasn't much in bloom, seeing how it was the beginning of November, but the gardens were still interesting.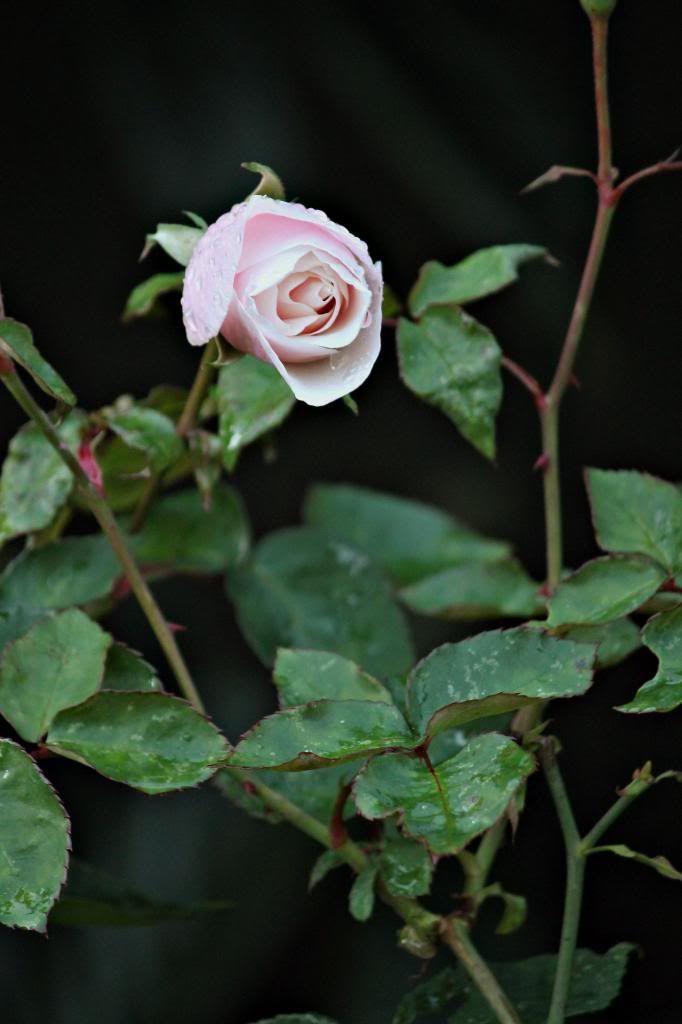 I never wanted to get on a Dublin bus again, so we followed the signs to a train station that was next to the castle. The only sign offering help at the train station was a piece of paper on the wall that had an arrow pointing to the right labeled DUBLIN. However, after several helpful people, we somehow managed to get on the train heading to Dublin. With free wifi on the train we both were quickly on the phone with friends/family back home; ah the miracles of technology.
And thus ends day 2! It didn't go exactly as planned, but neither did day 3 ;) stay tuned to see how the best laid plans of mice and men went!
Thanks for reading :)