Alternative Title: Fangirling in London
Last weekend my friend Michelle and I skipped school (for the first time, my professor asked if I was sick the next Monday seeing how I'm always the first one to class everyday) and jetted off to London to see a friend. It was Thanksgiving when we left-- we tortured ourselves by checking out everything that our family and friends were gorging on back home while we were stuck in a provisional terminal in the airport that lacked even a vending machine. Our dinner was some cookies I had squirreled away.
Lack of traditional food aside, it was a fairly short flight to London.Our tickets had been relatively cheap, but that was because we flew into the Gatwick airport which is about 30 miles outside of London. Getting into London wasn't difficult, they have a train that will take you right into the middle of the city, but it's a bit expensive.
None of the prices in London look that bad-- but that is due to the exchange rate, about $1.50 = 1 pound. Regardless, we made it into London late Thursday night and tried to met up with our friend in a busy train station without a phone or wifi.
Non-surprisingly, that didn't work out so we hopped on the metro and went to our hostel. We stayed in Generator Hostel, the same hostel company I stayed in Dublin with. In London they were crazy about the security-- to get near the hostel you had to show your room card. Though I suppose that's a good thing. Regardless, the hostel in London wasn't near as nice as the one in Dublin. We got stuck in the basement, which was undergoing a lot of construction, and didn't have any showers near us.
Luckily we didn't spend much time at the hostel. Friday morning we successfully met up with our friend and set off to see all the tourist sites.
The London eye! While we didn't actually go on the London eye-- it cost like 20 pounds and the line looked two hours long-- it was still cool to see.
Big Ben! I literally fangirled when I saw this. Maybe because I never thought I'd ever go to London, or because it previously had existed solely on my TV screen before commercials during the Olympics.
This picture has crappy quality because it's a zoomed in look at my iPhone picture taken while running across a bridge while a cold rain began to pelt us.
After a lunch of fish and chips (a necessity when visiting London) we headed to the Victoria and Albert art museum.
The museum was enormous-- I could've spent weeks wondering through it.
Sadly we didn't have weeks, so after a coffee and brownie break at their gorgeous cafe we headed off to dinner.
The next morning we met up and went to Buckingham palace to see the changing of the guards.
Or rather, we saw something, I think, I'm not sure what. The crowd was huge considering this is the off season and this happens every day. Some guards walked by, some rode horses, and a cold 30 min later it all appeared to be over.
After a quick lunch at a really cool Japanese place, we walked by the Tower of London and toured the Tower Bridge.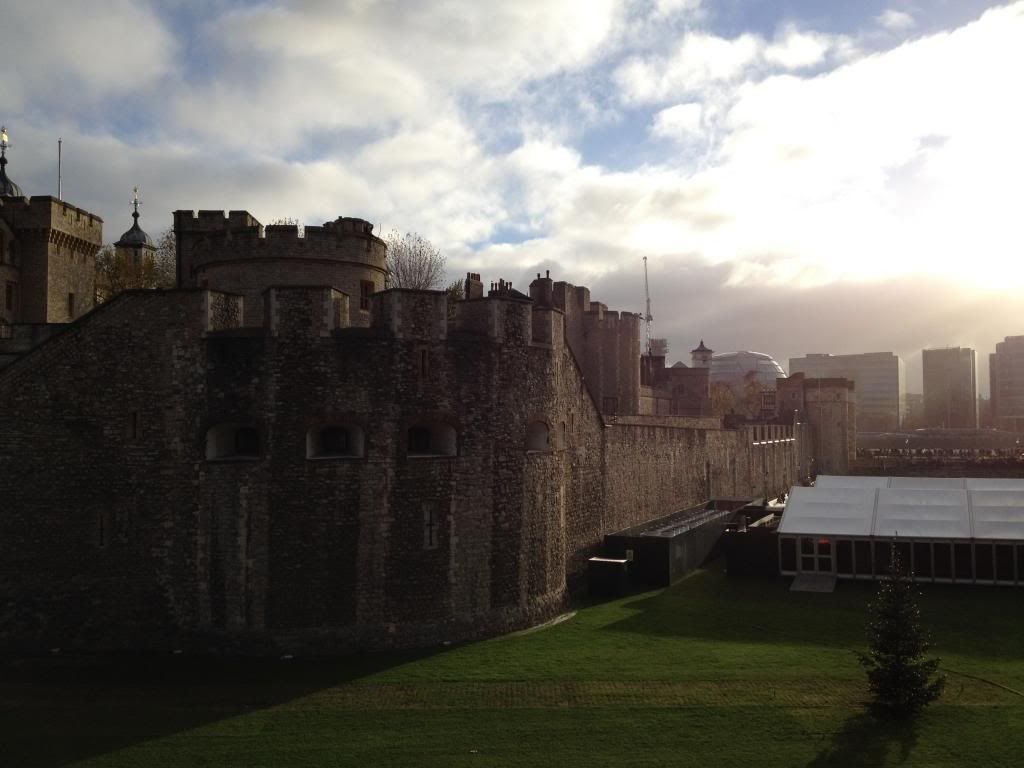 Part of the Tower
The Tower Bridge was like the second bridge constructed in London and gives panoramic views of the city.
After the Tower Bridge we headed over to see Westminster chapel, but when we arrived there was a service going on so the church was closed. Which makes sense-- often times in France the cathedral will be open to tourists even if a service is going on; it's a little awkward to try and take pictures while people are trying to worship.
That night, after enjoying a particular delicious cinnamon roll-- don't get me wrong, I adore French pastries but they do not have cinnamon rolls over here and after three months you just start to crave them-- Michelle and I went to see Phantom of the Opera! I've been obsessed with this musical for about as long as I remember. I know every word to every song and most of the speaking parts.
We showed up at the ticket office the day off trying to buy the cheap cancellation tickets. It was 20 pounds for the seats with 'partially obstructed views' and 50 pounds for the 'non-obstructed view'. The lady working assured us that the views weren't really obstructed-- just a small little pole that might only get in the way
sometimes
so we bought the cheap tickets. When we found our seats that night I laughed as I sat down. The pole, which wasn't too small ((probably a good thing since it held the low hanging ceiling up)) was directly in front of my seat, making it a little difficult to see things. I spent the first act dodging left and right to follow the action. Luckily for the second act I was able to find an empty seat next to Michelle which offered a miraculously unobstructed view of the stage.
The next morning we had an
early
flight to get back to Lyon. Long story short, the metro opens late, the trains sometimes don't come and when they do they have mechanical difficulties, the different terminals are really far away, but one mad dash-- and a lost scarf-- later, we made to our gate just as they began to board.
Thanks for reading! :)