Because apparently no one says 'n'ahlins' (sound it out).
The great city of New Orleans is where my friends and I (after much discussion and disagreeing) decided to go for part of Spring Break. Everything fell together-- my parents were going there, so we caught a ride with them, staying with friends in the city, helping us keep the cost down.
On Friday afternoon everyone headed home with me to hang out with some kitties and get ready for a seven hour car ride to New Orleans.
Seven hours later we pulled into New Orleans and onto the massive and beautiful Tulane campus. Coming from a little college nestled away in a corner of Arkansas, Tulane was overwhelming large and college-like. It felt like we all went to some small jr. college compared to this huge official campus. There were so many people just out and walking around campus, every subject actually had its own building, unlike Hendrix where several subjects are put into one building.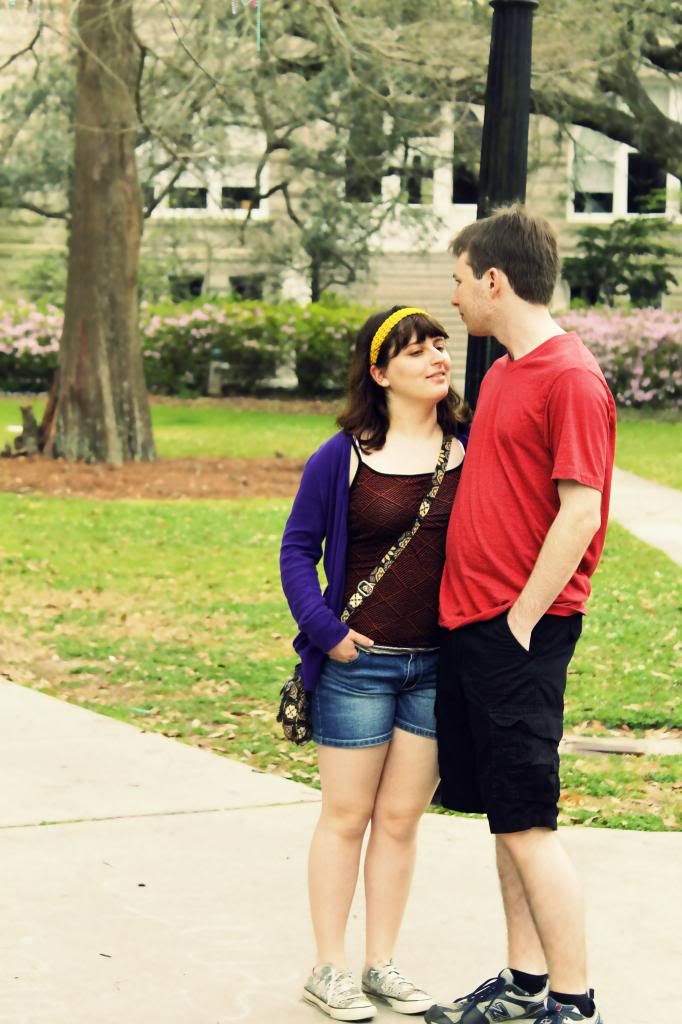 The happy couple
Traveling down to New Orleans was like traveling forward in time, rushing past winter into the mid-Spring New Orleans was enjoying. The trees had leaves, the flowers were blooming, and the weather was perfect.
There was a tree on campus where leaves had been replaced with Mardi Gras beads, like a party weeping willow.
We spent the night in a dorm room and headed out next day to the beautiful park that was right across the street from campus. At the back of the park was the zoo, though we spent a lot of time just wandering through the park.
It was crazy, leaving chilly Arkansas for the beautifully warm temperate temperatures of New Orleans.
This has to be one of my favorite photos from the whole trip. I just love the fresh light and the dainty raindrops.
I can't imagine how it cool it would be to be just a five minute walk away from a park like this. Hendrix has a beautiful campus, but without a nearby park like this.
The zoo was amazing; I took far too many photos to cram into one little post. Stay tuned for more adventures in New Orleans!