"Twenty years from now you will be more disappointed by the things you didn't do than by the ones you did do. So throw off the bowlines, sail away from the safe harbor. Catch the trade winds in your sails. Explore. Dream. Discover." -Mark Twain
I always loved that quote from Mark Twain. I found it on the first travel blog I ever read. The blog opened my eyes up to a new world of young people jetting to far flung corners of the world, turning their back on traditional futures with traditional jobs.
I know it's unrealistic but I always harbored a hope that I could become a travel blogger one day. And, in a perhaps small, don't-read-the-small-print, I will be, come September.
You see, I've been quite terribly blessed. I'm going to France to study French through a program called ISEP. The beauty of ISEP is that all I have to do is pay my home tuition (which includes room and board) and that covers my tuition/room/board in France. Since I'm lucky enough to have a full-ride to my home university, that allows me to go to France for free, with my tuition paid and a stipend for housing and food.
Talk about a great deal! That helps to soften the blow of the cost of my plane ticket, visa, and other miscellaneous items. A couple of days ago my family and I made the long journey down to Houston, Texas to apply for visas. My brother and his future wife are teaching English in Spain, so they needed to apply for visas as well.
Visa applications aren't that bad. Mine wasn't even that expensive-- it was half of what the French consulate website said it would be, which was a welcomed surprise. To apply for a student visa in France, you must first apply to Campus France, which is an ordeal, considering how buggy their application process is. Regardless, I managed to get through that, fill out all the other required forms, get my parents to promise to send me money if I needed it ((requirement for the visa!)), get my photo taken, and arrive at the consulate at my appointment time. The actual interview was short, basically me just turning in all the required forms. With two interview goings on right next to each other in the main lobby room, it was a bit difficult to hear what the visa lady was asking-- though I can tell you all about the genealogy of the lady who was applying for a visa next to me! The only worrisome point was when the list of required documents at the consulate did not exactly match the list of required documents on the consulate's website. Somehow, that managed not to cause much difficulty.
I bought my plane ticket last night. I'll be in France for roughly four months. My original dream was to study abroad in the spring and possibly stay late into the summer and travel through Europe. That lovely dream was squashed when my adviser told me that there was a required physic class offered every other year in the spring. If I missed it, it wouldn't be offered again till after I had graduated. So, my plans shifted to the fall, which I'm sure will be just as great.
I know this is a little early to be talking about my trip-- I don't leave till September 2nd after all-- but I wanted to take a chance and just talk about my upcoming plans. One thing I really love about this blog is that it allows me to look back. Before I went to college, I posted a small paragraph about the things I was looking forward to, and the things I was worried about. Looking back at that post now makes me realize just how foolish all my worries were, and how much my expectations were exceeded.
"Therefore I tell you, do not worry about your life..."
Matthew 6:25
Looking Forward To:
I'm excited to be back in France, first and foremost. It's been four years since I was last there and I miss it; I miss the language, the food, the sites, everything. I'm excited to get a chance to really become fluent in French, picking up all the quirks and idioms that come from living with the people, and not just studying a book. I'm excited to meet new people from around the world, I'm excited to make new friends. I'm excited to get to travel to countries I've never been to-- Spain, Italy, and wherever else I might end up. I'm excited for the food, the alcohol ((hey, just want to be truthful)), the cheese, the medieval castles.
Worried About:
I'm worried about getting there-- this will be the first time flying completely on my own. I only have one stop, but once I get to Paris I have to find the train station and take a train to St. Etienne. I'm worried about someone stealing my luggage, snatching my camera. I'm worried about getting lost. I'm most worried about not getting the most out of this entire experience. This is such a great opportunity and I know things won't be perfect, but I want to enjoy everything. Who knows when I'll get another chance like this.
Well, I do believe this is the longest post I have ever written! Also, one of the only posts without any pictures-- completely unlike me. If you, dear reader, have made it this far ((and don't worry, I won't blame you if you skimmed over this; I write it mostly for myself as a diary of sorts, and for my family to keep up with my when I'm abroad)), then you should get a gold star or something.
Since I don't have a gold star, I guess I'll just post a picture of my cat.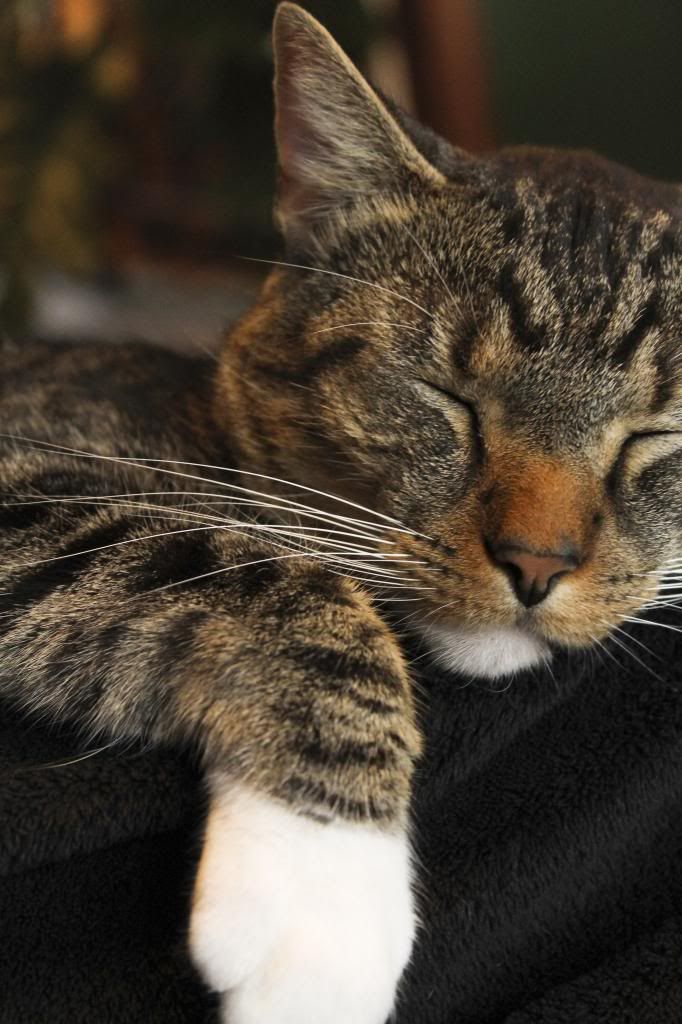 Because, really, look at the adorable face.